Living in New Orleans, hurricane season is something we all know and dread. But with the right preparation, you can make sure you and your family are safe when a storm hits. In this blog post, we'll discuss 8 essential steps to hurricane preparedness for residents of New Orleans — from home security systems to water monitors, electric safety measures to generators and CO2 detectors. Read on for tips that will help protect your property and keep you safe during the upcoming hurricane season!
Table of Contents
Hurricane Preparedness for New Orleans Residents
New Orleans is an area that is particularly vulnerable to the effects of hurricanes, and it is important for residents to prepare themselves and their properties for this season. Taking steps ahead of time to secure your home, property, and family will help ensure you are prepared in the event of a hurricane.
Taking steps ahead of time such as installing home security systems and water monitors, stocking emergency supplies, having an evacuation plan in place, and staying informed with weather updates can help protect your property and keep your family safe during a storm.
When is New Orleans Hurricane Season?
The official hurricane season for New Orleans typically runs from June 1st to November 30th. This means that the months of June, July, August, September, October and November are considered the most active times for high winds and heavy rains in the region. It is important to keep an eye on weather reports and have a plan in place if severe weather strikes during this
Unfortunately, New Orleans has an 11% chance of getting hit by a hurricane each year. Furthermore, weather patterns show that a hurricane hits within 50 miles of the city once every 7 to 11 years. However, New Orleans has made significant improvements since Katrina destroyed the city and left it underwater.
(source)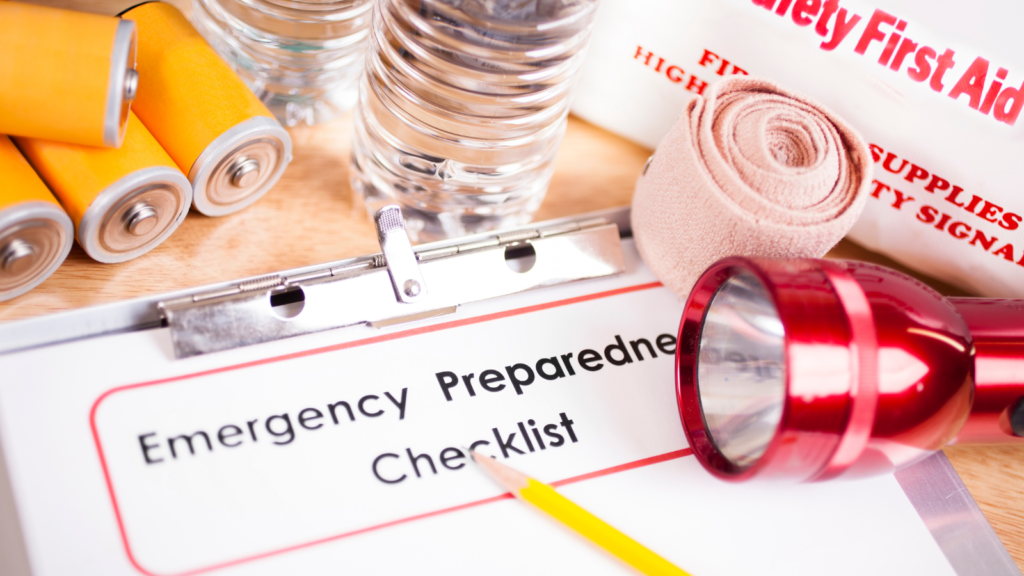 New Orleans Residents: Hurricane Preparedness Checklist
By being aware of potential risks and having a plan in place, you can better prepare for hurricane season and help ensure that your family and property are safe. With these 8 essential steps to hurricane preparedness, New Orleans residents will have the knowledge they need to protect their homes from wind and water damage during hurricane season!
1. Home Security Systems
Home security systems are an essential step to hurricane preparedness for New Orleans residents. Installing a quality home security system can help protect your property from burglary, wind damage, and flooding.
When selecting a system, look for features such as motion sensors, sirens or loud alarms, window and door sensors, flood sensors, backup batteries in case of power outages, and 24/7 remote monitoring capabilities.
This will ensure that your property is safe from any potential threats during a storm.
Additionally, many home security systems also offer additional safety features such as smoke detectors and carbon monoxide detectors to give you added peace of mind during the hurricane season.
If you choose APS for your home security – alert us BEFORE you leave town so we can keep an extra eye on your property.
2. Water Monitors
Water monitors are also an important part of hurricane preparedness for New Orleans residents. Water monitors can detect changes in water levels and alert you if your home is at risk of flooding.
Installing a water monitor system will provide you with the peace of mind that your home is being monitored for potential flood risks and will alert you if any potential threats arise. This is especially important when you leave town before the storm hits.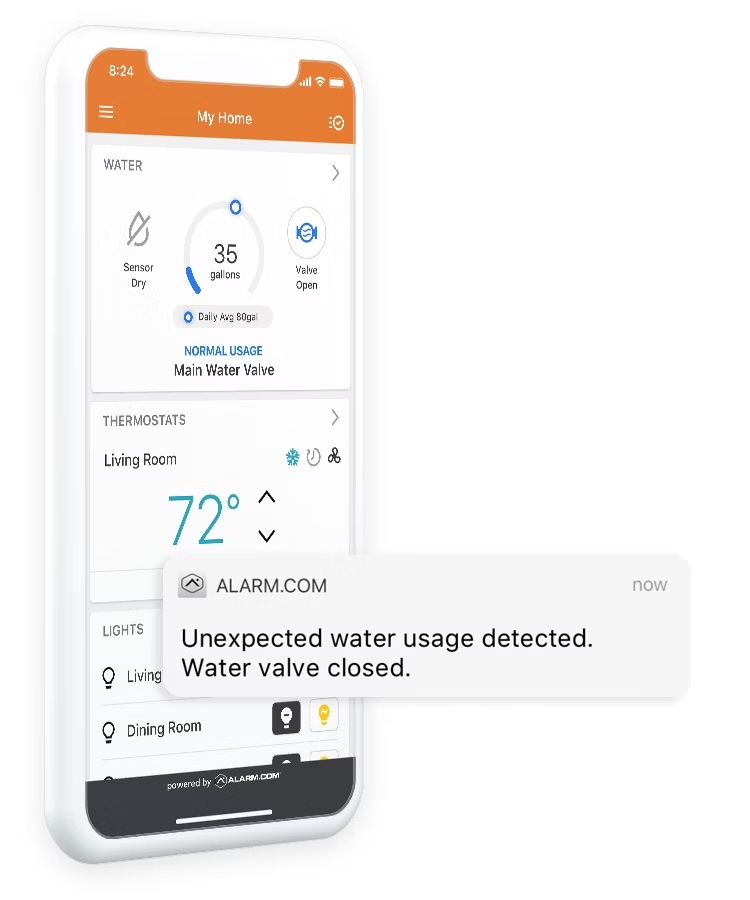 Some water monitor systems are even equipped with pumps to automatically remove excess water from around the property, helping to protect against unwanted flooding.
Additionally, many water monitor systems also feature additional safety features such as temperature sensors and storm warnings to give you added protection from storms during hurricane season.
3. Electric Safety Measures
Electric safety measures should also be taken to protect any appliances or electronics that may become damaged due to power outages. The most important step is to unplug all electronic appliances from their power sources and surge protectors before a hurricane hits the area.
This will help keep your home safe from electric fires or shorts caused by sudden power surges during storms.
4. Generators and CO2 Detectors
Generators are a great way to provide power during an emergency, and they come in a variety of sizes and shapes.
Portable generators are ideal for small to medium-sized homes, while whole-house generators can provide power to much larger buildings.
Before investing in a generator, make sure to research the different types available and select one appropriate for your hurricane preparedness needs.
Additionally, many generators also feature options such as automatic start/stop, remote monitoring capabilities, and smart load management systems to help conserve energy.
CO2 detectors can be used in tandem with your generator to alert you of dangerous gas levels in case of a generator malfunction. These detectors are typically installed near the generator itself as well as any other areas where carbon monoxide might build up. Additionally, CO2 detectors should be tested regularly and replaced when necessary to ensure they are working properly.
Finally, it is important to remember that generators should never be left running inside the home or other enclosed spaces as this could result in a buildup of deadly carbon monoxide gas. If you need to use your generator indoors, make sure the area is well-ventilated with open windows or doors to allow for proper air circulation.
5. Emergency Supplies & Kits
Emergency supplies such as food, water, and flashlights should be stored in an emergency kit prior to a storm hitting the area. It is recommended that each family member have their own individual emergency kit packed with at least three days worth of food and water, as well as any necessary medications or other supplies they may need during an emergency.
Additionally, make sure to include basic items such as flashlights, batteries, radios, first-aid kits, cell phone chargers, and cash in your emergency hurricane preparedness supply kits. These items will help you stay safe and connected during a storm and can be used in the event of power outages or other emergencies.
When stocking up on supplies for an emergency kit, make sure to buy non-perishable food items, such as canned goods and dry ingredients, that can last for weeks or even months.
Water should also be stored either in large jugs or containers that are sealed tightly to ensure it remains safe to drink during an extended shortage.
Additionally, it is important to rotate the supplies in your kit every six months to prevent them from going bad due to expiration dates or natural changes in flavor over time.
By having these items stocked ahead of time and ready for use during an emergency situation, it can help keep your family safe and reduce the amount of stress associated with any potential disaster situation.
6. Plan an Evacuation Route
Prior to the arrival of a hurricane in the Gulf, it is prudent to create a personalized evacuation strategy. There is no need for alarm! Hurricanes typically progress at a gradual pace, allowing ample opportunity to execute our evacuation plan with composure.
Continuing on with the idea of planning for an evacuation route, it is important to familiarize yourself with the area in which you live and plan a route that will lead you to safety. Make sure to map out any local roads or highways that may be available as well as any alternate routes that could be taken due to road closures during a storm. Additionally, research and note down any nearby shelters or safe havens where people can seek refuge if necessary.
Hurricane Preparedness for your Vehicle
It is also important to determine how you will get to your destination if needed. If you have access to a car, make sure the vehicle is equipped with necessary supplies such as extra fuel, maps, flashlights, and food items should you need them while traveling. Additionally, it is recommended to store items such as blankets, water purifying tablets, non-perishable food items, first aid kits and medications in your car in the event of an emergency.
Public Transportation Evacuation Options
If public transportation is an option for your particular location then familiarize yourself with bus routes and schedules so that you are able to quickly plan an evacuation route if needed. Learn more on the NOLA GOV site here.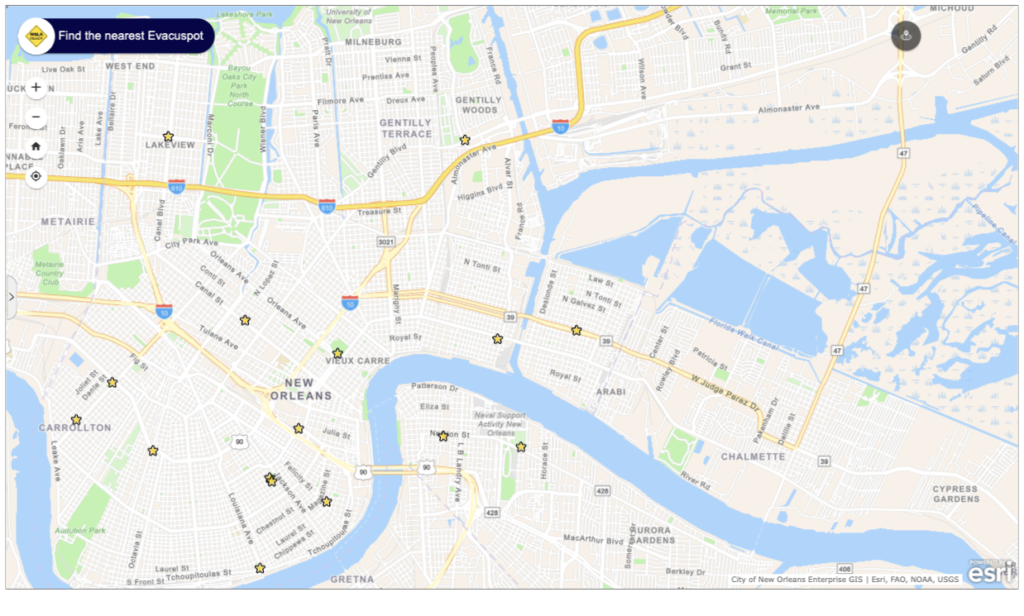 Understand Flood Levels in Your Area
Finally, when developing your evacuation plan consider how long it may take for the storm surge or flooding levels to reach your home and determine a safe distance away from danger where you can stay until it subsides. Knowing this ahead of time will ensure that your family has enough time to evacuate safely before being put in harm's way by rising flood waters or other dangers associated with hurricanes.
7. Have a Communication Plan in Place
Having a communication plan in place is key when it comes to hurricane preparedness. Make sure your family and friends have each other's contact information, as well as the phone numbers of any emergency services they may need. Additionally, designate one person who all family members can contact in the event that an evacuation is necessary, or if anyone needs assistance during an emergency.
Finally, make sure all family members are aware of their roles during an emergency situation. Designate someone responsible for gathering supplies or turning off utilities in case there is a need to evacuate quickly while others may be tasked with ensuring everyone stays as safe as possible during the storm. By knowing ahead of time who is responsible for what tasks, families can remain organized and prepared in the event of any emergency situation brought on by hurricanes or other natural disasters.
If you choose APS for your home security – alert us BEFORE you leave town so we can keep an extra eye on your property.
8. Stay Informed with Weather Updates
One of the best ways to stay informed with weather updates is to follow local and national news broadcasts. The National Hurricane Center (NHC) provides daily forecasts and advisories, as well as updated information on storm watches and warnings. Additionally, the NHC has a website that provides a variety of resources such as models, satellite imagery, and storm surge maps which can give people an idea of what areas could be affected by a hurricane.
The NHC also has an app called "NOAA Weather Radio" which allows users to receive severe weather alerts for their specific location. This app also includes interactive maps that provide real-time tropical storm activity and public advisories from the NHC itself. Other websites such as Weather Underground or Accuweather can also provide reliable weather updates in order to stay ahead of any storms that may be headed your way.
Additionally, it is important to pay attention to local government warnings which can provide vital information regarding evacuation orders or other safety measures that may need to be taken during a hurricane event. It is also possible to sign up for text or email alerts from your local emergency management office in order to get real-time notifications regarding any major emergency situations in your area.
Protecting Yourself from Hurricanes: A Guide for New Orleans Residents
Hurricane preparedness is essential for New Orleans residences during hurricane season. By following the 8 steps outlined in this blog post, residents can ensure that they are as safe and well-prepared as possible when a storm strikes.
These steps include creating an emergency plan, gathering supplies, preparing your home with safety measures such as water monitors and generators, researching evacuation routes and shelters near you, having a communication plan in place with family members or friends who can help if needed, staying informed about weather updates from reliable sources like the National Hurricane Center (NHC), and more.
Taking these proactive steps will not only keep you safe but also reduce any stress associated with potential disaster situations so that you can be confident knowing that your family is ready for whatever comes their way during hurricane season!
Contact APS today to best protect you, your family, and your property during the New Orleans Hurricane season!