Home is where the heart is. It's also where most of your valuables are. So naturally, homeowners want to protect their investment with a home security system. But with so many home security protection options on the market, deciding what's right for you can be overwhelming. That's why we've compiled a list of common questions homeowners ask when considering investing in a home security system. We'll cover everything you need to know to make an informed decision. So, kick back and relax, and let's get right into it!
Table of Contents
Do I really need a home security protection system?
Well, unless you're a fan of unexpected visitors at 3 AM, the answer is a resounding yes. A home security system is like an insurance policy for your peace of mind.
So in short, the answer is yes. According to the FBI, in 2020, there were over 1 million burglaries in the United States. That's one every 25 seconds! Investing in a home security system not only protects your valuables but also deters burglars. Plus, these days, with smart technology, home security protection can do more than just prevent break-ins. They can monitor for fires, floods, and even gas leaks, and alert you immediately.
U.S. Home Burglary Statistics (source)
1 million burglaries took place in 2019, down 9.5% since the previous year. (FBI Crime Data)
One burglary happens every 25.7 seconds, so approximately 3,300 per day. (FBI Crime Data)
There were 903,627 counts of burglary in 2020, which was the lowest it's been since 2010. (FBI Crime Data)

247,238 counts happened during the day at the victim's residence.
194,324 counts happened at night at the victim's residence.

In 2020, total stolen property value in the U.S. was estimated at $971,343,741,854, with only $54,493,725,004 of that value recovered. (FBI Crime Data)
Burglars are drawn to homes that do not have home security systems. Homes that don't have a security system are 300% more likely to be burglarized, (Alarms.org)
50% of burglars live less than two miles away from the home they want to steal from. (ADT)
Most burglaries occur in the summer. (Department of Justice)
Unfortunately, less than 30% of homes have an effective security system installed (Security.org)
A person is home during a burglary 27% of the time. (Alarms.org)
Someone was injured in 7.2% of all burglaries committed. (Alarms.org)
In 85% of burglaries, the crime is committed by amateurs, often done by someone who is desperate. (ScienceDaily.com)
Burglaries have declined by 49% in the last 20 years. (FBI Crime Data)
Isn't a good old guard dog enough?
We love dogs, we really do. They're cute, they're fluffy, but they also tend to sleep a lot. A home security system, on the other hand, never needs to take a nap. Remember, knowledge is power. And knowing your home is secure? Well, that's priceless.
How do home security systems work?
Home security protection systems are like your personal superheroes, always on the watch for any trouble! They work through a network of devices that all work together to protect your home.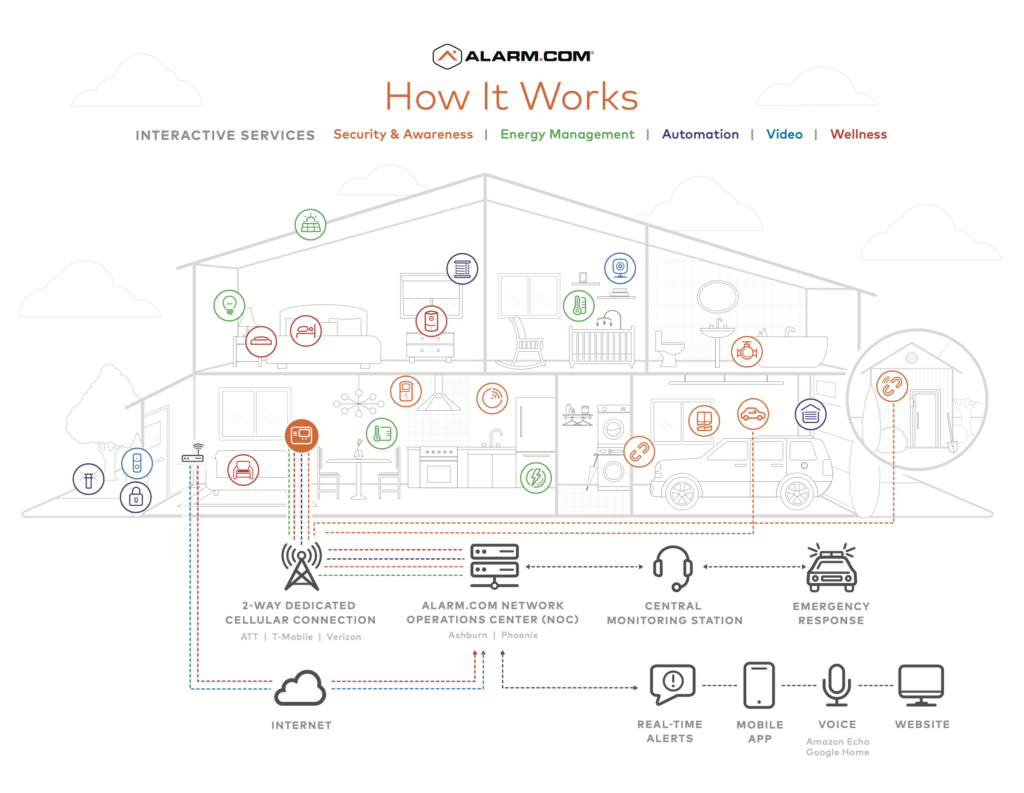 Typically, they start with a control panel, which is like the brain of the system.
Then, you've got sensors — placed on doors and windows — which send signals to the control panel if they detect any unauthorized entry.
To top it off, there are often motion detectors strategically placed around the home, catching any movement that the door and window sensors might miss.
And let's not forget about surveillance cameras! They are the eyes of your security system, keeping a watchful eye on your property.
Some systems also include additional features like smoke detectors, carbon monoxide detectors, and even flood sensors.
When any of these sensors are triggered, the system alerts the monitoring company (and you), so you can take action. They're like a 24/7 security guard that never takes a coffee break!
Aren't these systems super complicated to install and use?
Fear not, tech-phobes. Most modern systems are as easy to set up as they are to use. Your grandmother could do it. Your dog could probably do it. We're pretty sure your houseplant could… you get the idea. But whether you go the DIY or professional route, there's an option for you!
What should I look for in a home security system?
This one is a bit trickier. There are many factors to consider, such as size, location, budget, and more. But, generally, you should look for a system that is user-friendly, has professional monitoring, offers smart home integration, and has a mobile app. A system that checks all these boxes will provide 24/7 protection and offer peace of mind.
How much does a home security system cost?
The price range for home security systems varies widely. Factors that can influence the cost include the level of technology, the size of your home, and the location.
Your service provider determines the price of your system, which is based on the size of your home and the system and services you need. Typically, you'll pay some the cost upfront, then a monthly service fee. It's similar to owning a cellphone, with the same advantage of spreading out the cost of your new technology.
You can totally upgrade your entire property with security systems, locks, lights, video cameras, and thermostats all in one shot. Your service provider will handle everything—including pricing and installation!
You can totally start small and add more cool features when you're ready. And hey, when it's time to spice up your system with something new, just give your service provider a shout. They'll hook you up. Ready to get started? Contact APS today for a free estimate.
Typically, you can expect to pay anywhere from $200 to $1,500 as an upfront cost, followed by monthly fees ranging from $20 to $100. It's important to research each option carefully to see which one fits your budget best.
Which home security system is best?
Determining the "best" home security system largely depends on your individual needs, preferences, and budget. However, several systems consistently rank high for their reliability, advanced features, and customer satisfaction.
Among the top-rated home security systems, Alarm.com stands out for its robust features and excellent customer service. This system integrates with a wide array of smart home devices and provides consistent, reliable monitoring. Its app allows you to manage your home security from anywhere, providing real-time alerts and access to live video feeds.
The best Alarm.com features?
The most reliable solution on the market. Unlike other systems that share a phone or cable line, Alarm.com-powered systems uses a dedicated, secure cellular connection to provide reliable and uninterrupted service for your critical security messages. No cable line means there's nothing for burglars to cut and compromise your system—plus, the system will communicate even if the power, internet or broadband is down. If someone tampers with or destroys your panel, Alarm.com still sends a signal to your property's monitoring station, thanks to our Crash and Smash Protection.
Proactive safeguards do more to help you stay safe. In emergencies, we keep you one step ahead. If smoke or carbon monoxide is detected, Alarm.com can automatically shut down the heat or AC to stop the circulation of dangerous fumes, while your system, while alerting your property's monitoring station. Alarm.com wirelessly connects your home's critical devices–like carbon monoxide, smoke detectors and your heating and AC system–to the security panel.
Alerts and notifications work for you 24/7—even when your system is disarmed. Alarm.com's always-on technology keeps you notified of activity you care about, whether your system is armed or not. You can get text or email notifications when someone opens a door or window, disarms the system or even adjusts the thermostat. You can choose to get as many—or as few—alerts as you'd like.
Alarm.com remembers, even if you forget. With flexible and easy-to-set custom rules and alerts, you can get notifications if the garage door hasn't been closed by 10 pm or if you leave home without arming the system. Create reminders based on the time of day or when the system detects when someone has left.
But how does Alarm.com stack up against its competitors?
Let's dive in. Compared to other options in the market, Alarm.com excels in its range of compatible devices, from wide range cameras to smoke detectors, making it a versatile choice for comprehensive home security. The professional monitoring service, available 24/7, ensures immediate response to any alerts, offering an additional layer of safety.
However, Alarm.com might not be the most wallet-friendly option, especially for short-term renters, smaller homes, or studio apartments. If budget is a major concern, or if you're unsure about committing to a contract, you might want to explore other systems, such as a DIY home security option. At APS, we are proud to offer both options.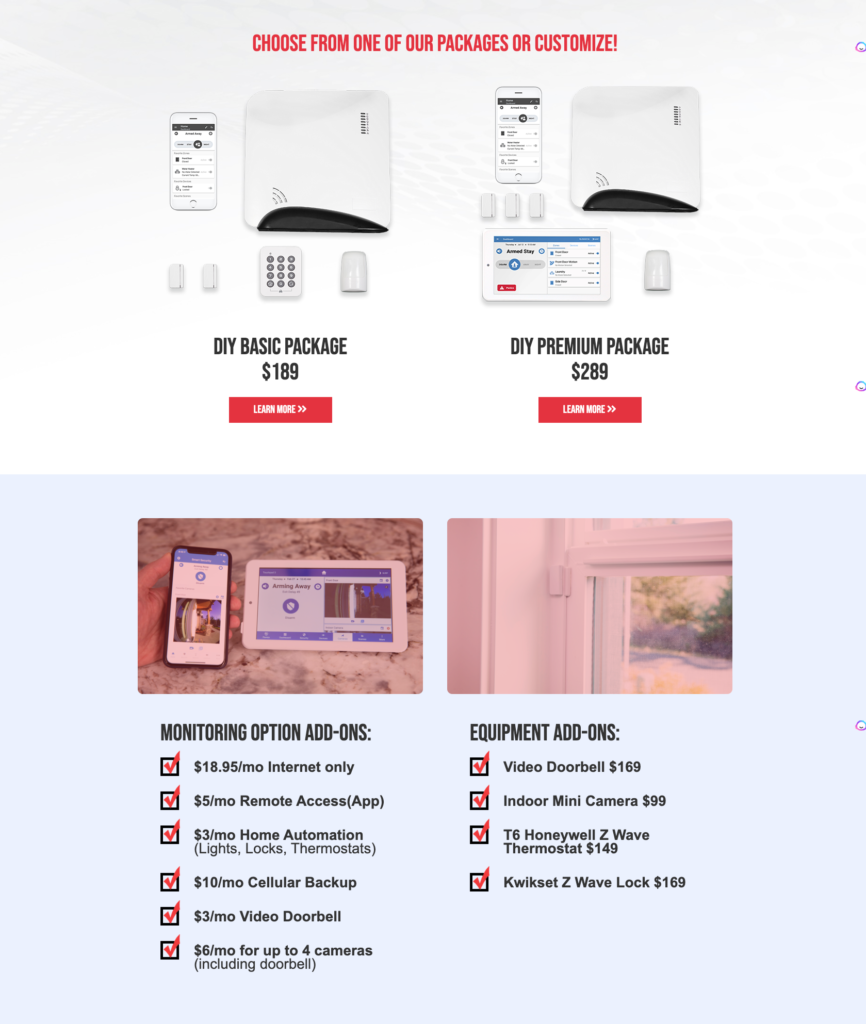 Other options to consider and compare features, pricing, and affordability would be Ring and ADT. Ultimately, the "best" home security system is the one that meets your specific needs and fits comfortably within your budget.
Ring – Known for their video doorbells, Ring also offers comprehensive security systems with affordable monitoring and easy DIY installation. While the Ring system does come with an affordable price tag, it's worth noting that its range is quite limited. You can only monitor a relatively small area, like your front or back door.
ADT – A long-standing recognized brand in the security industry, ADT offers a wide range of options and is known for its professional installation and monitoring. But the complaints are their "contract bound agreement featuring constant, creeping upward monitoring rates." As well as their command and control system doesn't allow for video-triggered automation.
While we believe Alarm.com is an excellent choice for its versatility and reliable service, it's important to weigh our strengths against other industry brands to ensure you are getting the best system for you. Remember, the best system for you will depend on a variety of factors, including your home's size, your tech savviness, and your specific security concerns. It's always a good idea to compare a few options before making a decision.
What is the installation process like?
Some home security systems are DIY, while others require professional installation. DIY systems can be set up by the homeowner, which saves money, but professional installation can ensure that the system runs efficiently and according to manufacturer instructions. It usually takes a few hours to install a system, but the exact time can vary depending on the size of your home and the security system you choose.
But what if I'm not home to monitor the system?
Well, that's the beauty of it! Most systems can be monitored remotely, meaning you can keep an eye on things from the beach, your office, or even from your well-deserved International vacation.
Can home security cameras be hacked?
Yes, home security cameras can be hacked. Because of the internet connectivity and IP address information that cameras require in order to function, hackers are able to access these cameras remotely and gain control of them. Even if your camera's manufacturer has included encryption protocols or other security measures, they may still be vulnerable to attack.
To protect yourself from potential hacks, it is recommended that you regularly update the camera's firmware, use a strong password, and install any available security patches. Additionally, be aware of what devices are connected on your home network in order to reduce risk from potential intrusions.
It's also important to ensure that any live feeds or recordings stored online are secured with additional layers of encryption. Taking these extra precautions can help protect your camera from being compromised and ensure that you are not a victim of unauthorized access.

Security by APS understands the importance of privacy and security, which is why we are committed to providing our customers with the best possible products to protect their homes. Our team of industry experts continuously reviews new trends in surveillance technology to ensure that our solutions are up-to-date with the latest advancements. We offer a variety of products that are suitable for both residential and commercial applications, including traditional alarm systems, wireless security cameras, and home automation systems to provide you with a comprehensive security solution for your home.


What happens if I move?
Most home security companies now offer the option to transfer your security system to your new home for a fee. Some companies even offer free installation at your new location. But, if you decide to terminate the contract early, there may be an early termination fee involved. Be sure to read through the terms and conditions carefully before signing up.
Investing in a home security system is a wise decision that can protect your family and your valuables. With smart technology, your security system can do more than just prevent break-ins. But, with so many options on the market, it can be overwhelming to decide what's right for you. So, when you're narrowing down your search, keep in mind the factors like price, technology, installation process, and more. It's important to find the perfect balance of price, features, and customer service. By doing so, you'll have peace of mind knowing that your home and family are protected 24/7.
Sleep Soundly: Making Sense of Home Security Systems
Investing in a home security system is a wise decision that can protect your family and your valuables. With smart technology, your security system can do more than just prevent break-ins. But, with so many options on the market, it can be overwhelming to decide what's right for you. So, when you're narrowing down your search, keep in mind the factors like price, technology, installation process, and more. It's important to find the perfect balance of price, features, and customer service. By doing so, you'll have peace of mind knowing that your home and family are protected 24/7.
We invite you to give APS a call to get a free quote with an Alarm.com system here.