Auto theft is a serious problem in many cities, and New Orleans is no exception. With nearly one car stolen every hour, it's essential to know how to protect your vehicle from becoming an easy target for criminals. Residents in every neighborhood of New Orleans are on edge due to this concerning trend. Fortunately, police have provided some top tips on how to prevent auto theft. In this blog post, we'll be taking a closer look at these eight strategies that can help you keep your car safe from thieves. Read on to learn more!
(feature image = Bayou Auto owner Joey Greco looks at the stolen cars that were delivered to his lot just in New Orleans on Friday, January 27, 2023. (Photo by Chris Granger | The Times-Picayune | The New Orleans Advocate)
"An auto theft epidemic is plaguing New Orleans, with nearly one car stolen every hour"

Source
Table of Contents
Why The 160% Increase In Auto Thefts?
In a year that has seen a slight but welcome downturn in violence across New Orleans, one crime category is surging: Auto thefts.
As of May 2023, the trend of car theft has risen a staggering 160%, with a leading cause being viral social media tutorials. These clips expound the ease of stealing certain vehicle models, specifically Kias and Hyundais built between 2010 and 2021. These vehicles supposedly succumb to theft in under two minutes utilizing only a screwdriver and a USB cable.
"Our biggest auto thefts right now are still those Kias and Hyundais, though both companies have made efforts to secure those cars," Michelle Woodfork, the interim superintendent for the New Orleans Police Department, said at a press conference this week. "We've also handed out wheel locks and done everything we could as far as helping citizens remedy that situation." (source – Nola.com)
As per the Metropolitan Crime Commission, car thefts have surged by 160% this year with nearly 3,000 vehicles already snatched compared to the previous year.
"It's just rampant," says Ina Murdock, one of the city's thousands of auto theft victims.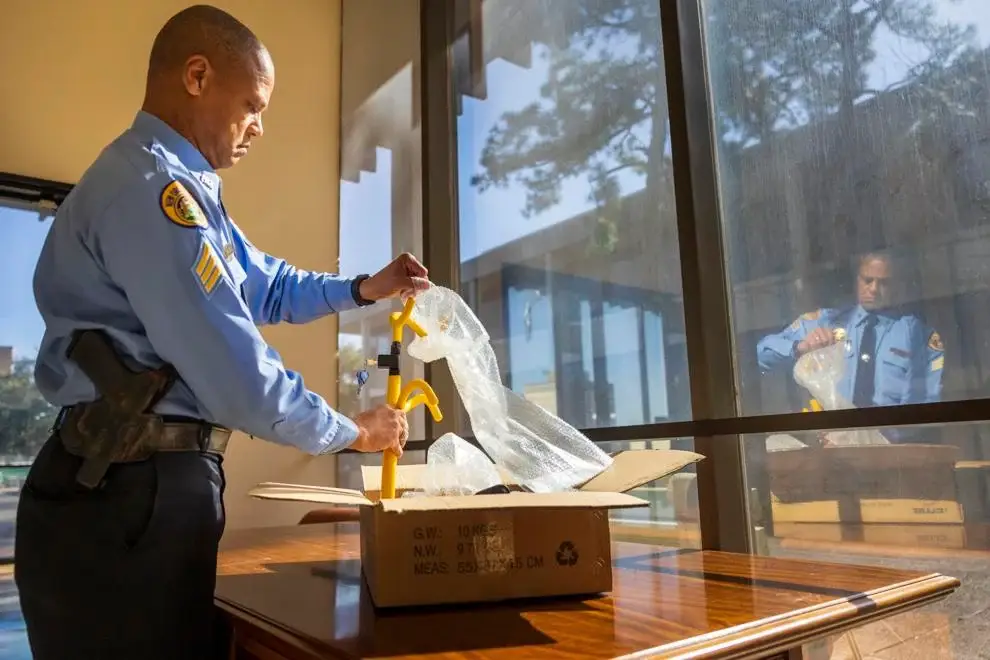 NOPD Sgt. Juan Barnes Sr. boxes on Monday, February 6, 2023 some of the steering wheel locks that Kia gave to the New Orleans police department to distribute for free to owners of Kia vehicles. Kia America Inc. provided the department with 300 locks that will be given out on a first come, first serve basis to Orleans Parish residents who own or lease a Kia vehicle. This is in response to the surge in auto thefts targeting Kia vehicles. (Photo by Chris Granger | The Times-Picayune | The New Orleans Advocate)STAFF PHOTO BY CHRIS GRANGER (source)
How To Keep Your Car Safe From Theft and Burglary: 8 Strategies from Police
1. Use An Alarm
To keep your vehicle secure when not in use, it is important to shut and lock all windows, sunroofs, and access points. An alarm or anti-theft device can also provide an added layer of protection against theft. Contact APS for the best car theft prevention device.
2. Park In A Secure Location
Always park your vehicle in a secure and well-lit location. Trust your instincts, if you feel unsafe about a location, do not park there.
3. Remove Valuables From Car
To prevent auto theft, refrain from leaving valuable possessions, such as laptops, cellphones, wallets, purses, or any other item, in plain sight within a vehicle.
4. Use A Lockable Glove Compartment
To prevent theft and protect your identity, secure all garage door openers and anything with personal information in a locked compartment within your vehicle – like the glovebox.
5. Secure Valuable In The Trunk Before Your Trip
Prior to your trip, it's advisable to stash any valuables in the trunk or back storage of your vehicle. Avoid doing so once at your destination where items may become exposed to the public. Should you be unable to conceal your possessions, it's best not to leave them in the vehicle at all.
6. Do Not Leave The Vehicle Running
Leaving your vehicle with the engine running and keys inside or nearby can be a risky move. Avoid it at all costs to prevent auto theft and ensure safety.
7. Install A GPS Tracking System
Consider using a GPS tracking system or service for your vehicle, to improve your chances of retrieving it in the event of a theft. We encourage using such systems legally and responsibly.
8. Remove All Guns From The Vehicle
Leaving guns in your vehicle is a dangerous proposition – it's one of the primary motivations behind countless vehicle burglaries in the city. If you're venturing out to a public space, it's best to ensure your firearm is safeguarded securely at home.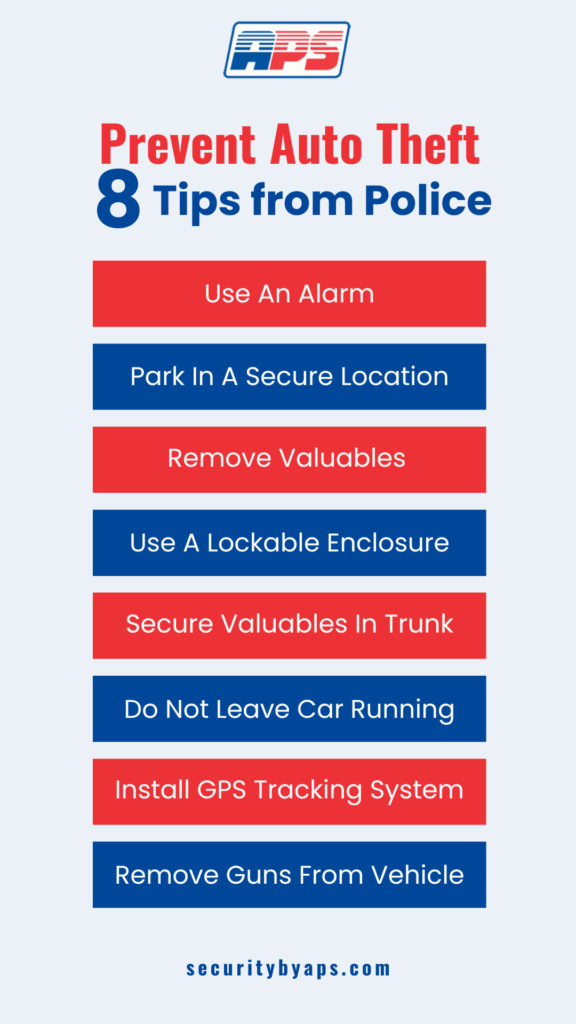 Prevent Auto Theft – Follow These 8 Essential Tips as Recommended by the Police
It's clear that auto theft is a serious problem in many cities, and New Orleans is no exception. Fortunately, police have provided some top tips on how to prevent it from happening.
By following these eight strategies to prevent auto theft – such as installing car alarm systems, parking in well-lit areas, investing in anti-theft devices for your vehicle, removing all keys from the ignition when leaving your car unattended and using tracking devices – you can make sure that your vehicle isn't an easy target for criminals.
Remember: prevention is better than cure! So take action now to protect yourself against auto theft today.
Contact APS today to see about your car alarm protection options! (504) 224-7122