As school security becomes increasingly important in New Orleans, school administrators must have the right security system in place. With so many different companies offering school security systems and a variety of options available, it can be difficult to make the best choice for your school. In this article, we will discuss how to find the right security system for your school in New Orleans and what features you should look out for.
Table of Contents
The importance of school security systems in New Orleans
Schools in New Orleans face a unique set of security challenges, from everyday school safety concerns to potential natural disasters and other threats. Installing a school security system is one of the best ways to ensure your school is prepared for any situation.
With reliable security systems, school administrators can rest assured that they are prepared for whatever may come their way.
Security systems provide 24/7 monitoring, motion detection, access control, and video surveillance – all features which are essential for keeping students safe on school grounds.
School security systems are essential for protecting school facilities and the people inside them. As educational institutions become more aware of the potential risks, school administrators have been actively investing in school security solutions that go beyond simply installing surveillance cameras.
A comprehensive school security system should include both physical and technological measures such as alarm systems, access control systems, metal detectors, door locks, panic buttons etc. It's also important to consider how these pieces fit into a larger school safety strategy.
Overview of school security system features and benefits
School security systems are designed primarily for the safety of students, teachers, visitors, and other staff members. They provide effective protection from potential risks such as theft or violence on school premises.
But school security systems can also go beyond physical security measures by providing access control and tracking capabilities that enable school administrators to monitor who is entering and exiting their buildings.
This type of surveillance helps identify if something is amiss before it escalates into a dangerous situation.
Modern school security systems offer a variety of features designed to maximize efficiency and effectiveness when it comes to school safety.
These include automated alarm systems with real-time notifications, multi-camera integration, remote access control and lock-down capabilities, as well as mobile applications with facial recognition technology and virtual doormen for student ID validation. All these features help schools monitor their premises more effectively while providing students with an additional layer of protection against potential threats or intruders.
Additionally, many school security systems come with software that allows administrators to analyze data gathered by their cameras or sensors to better identify potential risks or safety issues before they become dangerous scenarios.
Benefits of hiring a professional security company for school safety
Hiring a professional school security company provides numerous advantages over managing school security yourself or using off the shelf solutions such as basic alarm systems or DIY surveillance kits.
Security companies – such as Security by APS – typically provide expertise in both physical security measures such as access control and locks as well as digital services such as cloud storage and data analytics which will help you make more informed decisions when it comes to school safety measures.
Professional companies also often include repair services should something go wrong with the system down the line so you don't have to worry about costly repairs or replacements in the future.
Steps to finding the right school security system for your school in New Orleans
When looking for a school security system in New Orleans, there are five steps you should follow to ensure you select the right solution for your needs and budget:
1) Research local security companies – Start by researching local providers who have experience installing similar types of systems at schools nearby; ask around if anyone has recommendations on reliable service providers who are knowledgeable about local regulations regarding school safety measures; take time researching customer reviews online before selecting a provider; visit their website (if available) to determine what type of services they offer and pricing information; contact potential vendors directly via phone or email if you need further clarification on anything before making your final decision.
2) Assess your needs – Make sure that any vendor selected meets all your requirements so that you know exactly what you're getting from them; work out details such as warranties, installation timescales, maintenance contracts, etc; be sure to factor in future upgrade options since technology advances quickly nowadays.
3) Schedule an onsite inspection – Once you select a couple of vendors based on initial research have them visit your campus so that they can see firsthand what type of equipment or installation would be required; this will also give them an opportunity to assess environmental factors like weather conditions which could affect performance.
4) Get quotes – Ask each vendor for quotes based on desired features and equipment needed to compare prices accurately. Get a FREE QUOTE fro APS.
5) Final selection – Take into account all factors, including price points, when making your final decision; don't settle just because one option is cheaper than another since the quality should always be taken into consideration when it comes to something as important as school safety.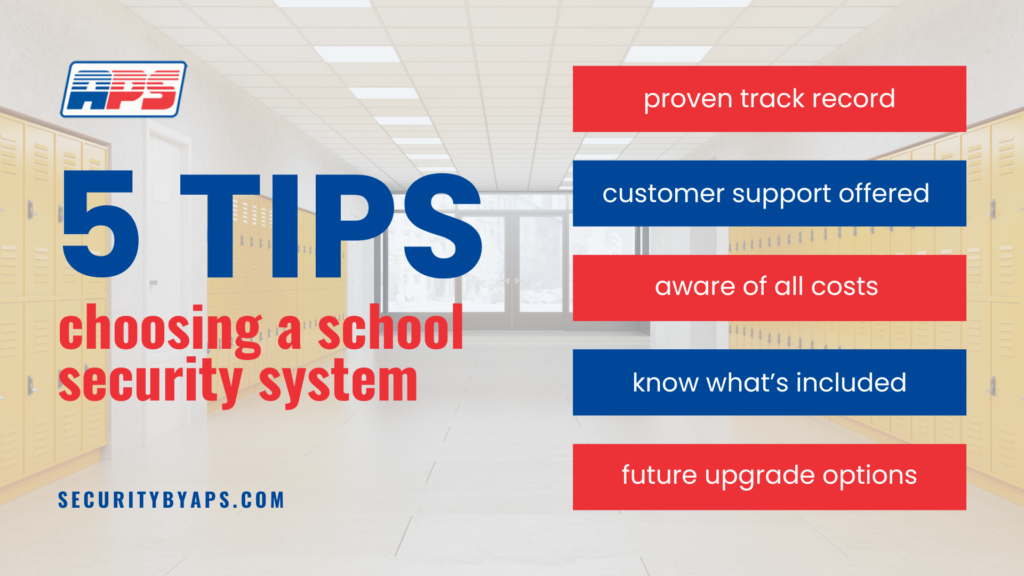 5 Tips on choosing a reputable local security company for your school's needs
Look for companies with a proven track record in school security systems – ask around to find out if anyone has any experience working with a particular security company and whether or not they were happy with the service provided
Check what type of customer support the company offers – ensure that there are options such as live chat, telephone support, email assistance, etc. so you know help is always available when needed.
Make sure you know all costs associated with the school security system – hidden fees can pop up unexpectedly, so make sure that cost breakdowns are provided before signing anything.
Ask about any additional services that may be included in the package – some companies might include installation or monitoring services as part of the deal; make sure you know what's included before making a final decision.
Find out how the school security system can be upgraded in the future – technology advances quickly and you don't want to be stuck with an outdated system down the line; make sure that any potential provider can offer options for upgrades should they become available.
By following these steps and tips on choosing a school security system, school administrators in New Orleans will be well-equipped to find the right solution for their school's safety needs. With a quality school security system, school administrators can rest assured that their campus is safe and secure.
Questions to ask when comparing different school security systems and companies
When comparing school security systems and companies, school administrators should consider various factors such as the type of system they need, the level of security they require, and their budget. It's important to ask questions about each system's specific features and capabilities.
For example, school administrators should inquire about video surveillance options, access control systems, alarm monitoring services, remote monitoring capabilities, and other security measures.
They should also find out if the school security company provides maintenance and repair services if any part of the system fails or needs to be replaced.
Additionally, school administrators should look into whether the school security system is compatible with existing school technologies or if it requires any additional hardware or software installations.
Finally, school administrators should ask about pricing structure; some vendors may offer discounts for long-term contracts or packages that include multiple types of equipment.
With all these questions in mind, school administrators can decide on the best school security system for their campus.
Selecting the best school security system for New Orleans schools
Choosing the right school security system is an important decision for school administrators in New Orleans. With so many options available, it can be difficult to make the best choice. But by understanding what features you should look out for and researching different companies that offer school security systems, you can find the perfect fit for your school's needs. Ultimately, having a secure school environment will help create a safe and productive learning atmosphere where students can thrive. Call APS for your FREE quote: 504.455.5277